Paper-based data capture is a thing of the Past
Digital transformation of laboratories is increasingly inevitable, as it is superior to the traditional way of capturing data in almost every way. The method of capturing data in labs has evolved greatly over the years. Traditionally, recording data & observations in paper-based notebooks manually, has been the preferred method of data capture. Today's modern labs have started the transition to fully automated data capture digital applications fed by connected instruments, to reap the benefits of increased efficiency, data integrity, maintenance of GxP guidelines and ease of complying with regulatory compliances such as 21 CFR Part 11 compliant system & USFDA.    
An Electronic Lab Notebook (ELN), is one such digital application that labs use, which aims to emulate an interface similar to a paper-based lab notebook with additional advantages, such as – better collaboration, data management practices, compliance and error-free data capture with traceability. ELNs also have features which help register and manage inventories and maintain and keep track of instruments used.
The benefits of capturing data using an ELN over a traditional lab notebook are the following:
Complete adherence to regulatory compliance requirements & data integrity while capturing data for tests and experiments digitally

Follow

FAIR principles

,

which make data Findable, Accessible, Interoperable & Reusable. 

Increased lab worker productivity, and reduced human error by eliminating the need to transcribe data manually to transfer data from paper to electronic formats.

Easy sharing of data to enable better team collaboration

Integration with instruments in real-time to automate data capture

Superior long-term data protection security & availability
The Types of Data that exist in a Laboratory 
We can broadly categorize the types of data in a traditional laboratory setting into two types.
Structured Data – Data which is standardized and available in machine-readable formats such as test data sheets, Standardised SOPs, laboratory checklists etc. These types of data have a general format that they follow which makes it easy to replicate tests and experiments as and when needed. New iterations of such data formats can be built on top of existing standardised formats.

Unstructured data – Unstandardized data usually does not follow a pre-defined format and is dynamic in nature. Data such as handwritten observations & notes, graphs, images, dynamic research and development studies conducted on the go, assays, and process development are a few examples of unstructured data. This type of data capture is more suitable for scenarios when several on-the-go experiments take place where the researcher does not usually have a pre-defined starting point to build from but is developing & recording the method from scratch.
An ideal ELN solution is one which successfully enables the capture of both these types of data and stores it better than a traditional paper notebook, resulting in superior data traceability, searchability & accuracy. 
How Logilab ELN allows seamless data capture of Structured Data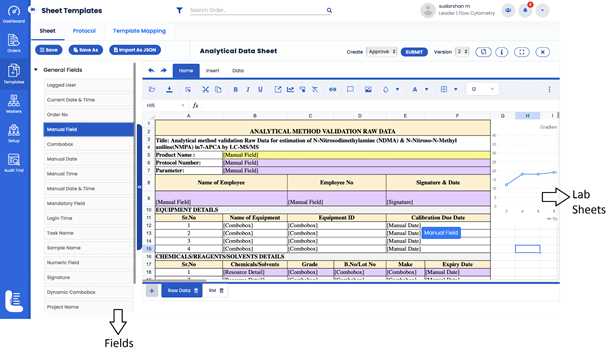 Logilab ELN allows structured data capture through an intuitive, spreadsheet-like interface known as 'lab sheets'. These lab sheets can be user-designed directly through Logilab ELN, or if you already have your existing templates stored in an excel spreadsheet, you can import them.
Designing your own lab sheet in Logilab ELN begins by entering predefined 'fields' into the cells wherever the researcher is supposed to enter data. Each field has a different function and acts as both, a guide and validation of what data can be entered in that cell. While entering data, the data enterer is restricted to only entering the appropriate data in the mentioned fields, reducing the likelihood of errors which arise while entering data. (e.g In the numeric field, only a result which is a number can be entered. In the current date & time field, the current time & date will automatically be recorded. In the Dynamic Combobox field, only a selection from a list of dropdowns can be made). Lab sheets can be designed with several fields like text, numeric, drop-down lists, date, time, formulas, and even instrument fields which extract data of interest from instruments to automate data capture.
Apart from this, complete version and release control are provided in the application enabling you to identify every change made in data entered across different versions of the file, while reviewing and approving the entered data. By creating lab sheet templates for your structured data capture, Logilab ELN helps you to standardize your notebook entries, test method sheets, SOPs, lab checklists and more, ensuring they are all built in the same way. 
Therefore Logilab ELN is the ideal solution for GxP labs, where the need for data integrity is a high priority. By seamlessly enabling compliant data capture, facing audits and regulatory compliances is no longer a hassle but made simple through its inbuilt features.
Versatile Logilab ELN excels in recording Unstructured Data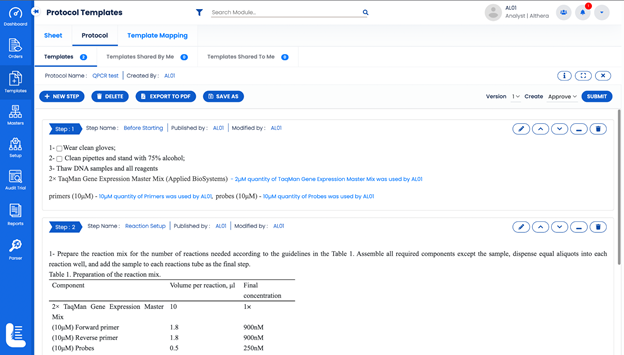 One can argue that a traditional notebook is the best way to capture unstructured data, as the flexibility of an unstructured 'blank page' format enables scientists to capture and describe a wide variety of experiment types with data ranging from the protocols and narrative of the experimental process to the write-ups and results. Real-world examples of experiments include standard protocols which labs used for manufacturing and testing of samples, Q-PCR tests, assays, etc.
Logilab ELN provides a versatile interface known as 'protocol templates', with the aim of helping record unstructured data as efficiently as a paper notebook. In a created protocol template, multi-step procedures can be designed, such that the lab person can only proceed to the next step once the current step is done.
Not all research needs to be conducted using pre-defined protocol templates. If a researcher wants to record his experiment and design his template as he conducts it, or is recording a new experiment for the first time, this is possible through 'dynamic protocol orders' which is nothing but a clean slate that the researcher can use to capture data on-the-go as they please.
Protocol templates have additional features which allow you to update and track inventory usage and levels as the experiment is conducted, and insert timers, tables, images, charts, chemical diagrams, and instrument fields which automatically pull data from your instruments. 
Try a free trial of Logilab ELN today!
Logilab ELN is a unique solution for digital data capture in your laboratories as it is suitable for both types of data; structured & unstructured. It is intuitive and easy to use while providing the flexibility to the end user to decide whether they want to use pre-designed templates or design their own on the go. It has the ability to integrate with instruments to help automate the data capture process, while also being able to integrate seamlessly with LIMS and SDMS software to completely digitise your lab. Try the Logilab ELN free trial today for 14 days and digitise your lab workflow!