Test result entry and report generation are two important aspects of laboratory operations. Unfortunately, it is the dire reality that many labs struggle to get both done. Agaram Technologies' Logilab ELN provides a more efficient way to execute & automate test result entry & report generation in the lab. Here's a quick overview of how result entry and reporting become easier with Logilab ELN implemented.
User-friendly UI
Logilab ELN's Labsheets provide a spreadsheet-based user interface similar to excel, that enables fully traceable & controlled data capture. Predefined specialised data capture 'fields' can be inserted into the cells wherever the researcher is supposed to enter data during result entry. This acts as a validation for the person entering results, enabling the accurate capture of data. These fields are many available in multiple formats such as
Manual
Numeric
Signature
Current Date & Time
Metadata from the lab experiments & tasks being performed such as the sample name, ID, project name, & task name can be automatically captured within labsheets without any manual entry. Formulas can be set up during template creation and are executed automatically during data capture.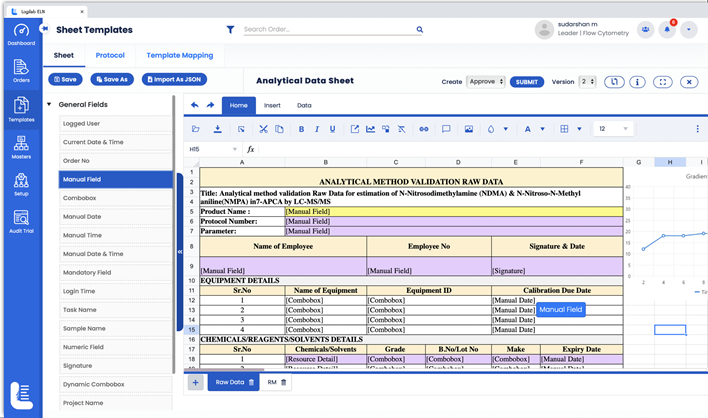 Many laboratory software solutions are complicated and come with a steep learning curve. But this isn't the case with Logilab ELN which has an intuitive user interface, that typically researchers are already familiar with.
Being fully compatible, it greatly enhances the traditional capabilities of data capture from legacy formats, providing end-to-end test result entry solutions that ease the strain on lab personnel.
Automated data capture from instruments & Controlled data capture
In traditional laboratory settings, the technicians manually record the test results and instrument data.  When there are many instruments involved in the laboratory test process, the amount of work involved starts to exponentially increase, as the volume of data is simply too much to record manually. Eventually, this can lead to fatigue and monotony which results in human error, affecting the accuracy & data integrity of test results.
Equipped with an advanced parsing engine, and via integration with Logilab SDMS, Logilab ELN allows for automated data capture from both PC and non-PC-based instruments. There is also the option for port-based data capture for standalone instruments with RS232/TCP IP ports. This reduces human intervention, thus increasing efficiency & saving time, effort, and cost.
Dynamic reporting tool for seamless report designing & document creation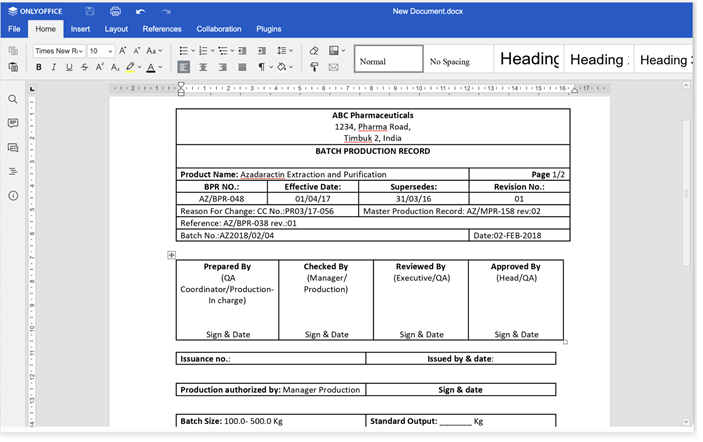 Most laboratories are familiar with MS Word and use it for their daily reporting, designing and document creation. The Logilab ELN report designer & editor is fully compatible with the MS word environment and allows users to create dynamic reports & also import previously designed word documents to save time.
Reports Generated can pull and consolidate data automatically from multiple tests and experiments performed over a period of time into one final report, which delivers insights on key lab parameters.
Benefits of using Logilab ELN's reporting tool:
Store all your reports in a controlled environment
Automatic data population in a report from multiple sources
Dynamic auto-report generation allows you to make proactive decisions
Import existing reports in MS Word format directly into Logilab ELN
Collaborate with your team to edit reports
Configure Review and approval workflows for reports
Role-based privileges to access and view reports
Easy report generation
For laboratories already reliant on some form of LIMS, Logilab ELN can integrate with, & pull data from LIMS. It saves a lot of time and effort using its data identifiers (aka tags) that simplify the process of generating final reports.
After this, users simply need to enter tags on the sheets with data that they would like in the final report. The users simply need to enter the respective tags in the report design, wherever they want to pull the relevant data. The final report can be generated with a click of a button, after which data gets populated wherever the tags are entered. All reports can be configured with a review & approval workflow if needed.
These intelligent reports enable accelerated speed to insights which inevitably helps laboratories in making proactive, data-driven decisions.
We've only scratched the surface
Logilab ELN comes with an array of other useful features, including version & release controls, role-based privileges & access, and audit trails & e-signatures. You can explore Logilab ELN today via a free trial, to get a better feel of how it can help increase the efficiency of your laboratory workflow. Try it today!